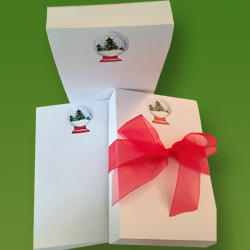 New for the Holidays!
Snow Globe Pad - 230 sheets, size 5 1/2" x 8 1/2"
Scribbling Ink welcomes you to its collection of fine papers, gifts and home accessories.
Conceptualized in 1992, Scribbling Ink has created over sixty original watercolor and ink designs that adorn a wide selection of stationery and lifestyle designs. Derived from artist Catlin Nammack's affectionate take on nature, Scribbling Ink's unique artwork depicts images from the world around us, be it in the garden, on the beach, or in wildlife. The artist's fresh and vibrant designs set the tone for the Scribbling Ink collection.
Because Scribbling Ink recognizes the importance of the well-dressed gift, every item arrives in your home ready for gift presentation in our signature packaging.